Clean Up Comber on Saturday 18 April 2015!
Comber BIG Spring Clean a Great  Success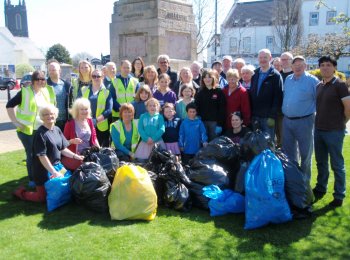 91 bags of rubbish were picked up by 32 volunteers  who turned up to take part in the annual Comber  Big Spring Clean.  The clean up event which was organised by Alderman Deborah Girvan with the support of Comber Regeneration Community Partnership aimed to pick up litter and rubbish which had been dropped by people around the town.
Alderman Girvan said, "It never ceases to amaze me what people throw into rivers, along grass verges, car parks and public footpaths.  Apart from the usual cans, bottles, sweet and crisp wrappers, fast food bags and cartons, we found 5 rotting pigeons in a crate which had been discarded among bushes  between the roundabouts on the road from Comber to Newtownards;  the wooden legs of a cabriole table in the Killinchy Street car park; and old prams and scooters were dragged out of the Comber River.      I really don't understand why people can't put their rubbish in a bin, take it home with them or dispose of larger items at the excellent amenity and recycling centre on the Ballygowan Road.  People need to be aware that if they are caught dropping litter or letting their dog foul on pavements or public places by the Council they can be issued with  a fixed penalty fine of £80."
Litter is a big problem not just for Ards and North Down but also across Northern Ireland.  According to Keep NI Beautiful, £40,000,000 is spent every year  on street cleansing in Northern Ireland.   Between 2011/12 and 2013/14, it cost the rate payers of Ards and North Down £2,536,655 to clean our streets and roads.
Mike Moore, Chairman of Comber Regeneration Community Partnership said, "  This was a great effort by the people of Comber to clean up our town.  I would like to thank everyone who took part including the staff from Tesco Express in Comber who also provided water and refreshments at the end of the litter pick and Ards and North Down Council for providing litter picker sticks, bags and gloves.  It just goes to show how a small group of people can make such a difference to their local community."