Colour Comber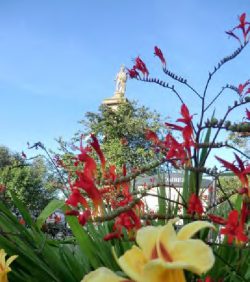 The origins of this project resulted from a photographic presentation of how good, well located planting could significantly improve the look and environment of parts of Comber. The presentation was prepared by Alberto Oscoz in January 2013 for a Comber Horticultural and District Society meeting held in Comber Primary School.
Following discussion within the Society and consultation with local Councillors and MLAs Alberto's ideas were to be further developed into in a more comprehensive vision embracing streetscape in much of the Town Centre. The objective is that some time in the near future Comber might enter the Ulster in Bloom Competition. The dream, which continues, is that Comber might one day win it.
Comber Regeneration Community Partnership fully shares this dream and can offer Comber Horticultural Society our full backing and support to try to achieve it.